Septic System Sales & Installation

Septic Tank Sales, Installation and Pricing
If you live in a rural area or are planning on building a new home in the countryside, you may need a septic system.
A septic system contains an underground septic tank made of plastic, concrete, fiberglass, or other material to treat and dispose of sewage. This system is designed to provide an individualized wastewater treatment option for commercial and residential areas. Although you can install your own septic tank, we recommend professional installation due to the amount of expertise and specialized equipment needed.
Do to poor soils, in most of Southeast Texas areas an Engineered anaerobic septic system is required.
Engineered anaerobic septic system
Engineered septic systems are the most complex and are generally needed due to poor soil or the home being situated on an uphill slope. Just like alternative and conventional septic systems, engineered systems collect and separate waste in a tank. Instead of relying on gravity to drain, the liquid waste needs to be pumped and sprayed over the leach field so that it's evenly distributed throughout the land. These systems generally cost around $9,500-$10,000 for the typical 500-600 gallon/day systems. Many counties require a working septic prior to installation of new electric service, so plan early with plenty of time as installations often take as much as 2-3 months with permitting and construction.
At Tex Shed we have several high experienced and qualified designers and installers for your new or replacement septic system. Just contact us today with your needs to get started and for your free estimate.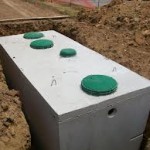 Call or come by our offices today to get started planning your septic system! We have a little surprise bonus for you when you're ready offering an upgraded system from most competitors while still beating their price! Lets get started!